River Valley Pregnancy Resource Center fundraiser
Champaign Public Library
Family Reading Night- ~Bourbonnais Public Library

Burbank, IL
~6th grade, Maddock Elementary School
~6th grade, Harry E. Fry Elementary School

Ottawa, IL ~Reddick Public Library
Recent Events
~Informative talk & volunteer participation
~Audience hands-on time with armour and helmets
~Standard program is 60-90 minutes but can be modified to meet your needs

Please contact Sir Randall for pricing and availability. Discounts are available when scheduling demonstrations at two nearby locations on the same day. We look forward to working with you to make your event special.
Pricing

Home
Bookings
Brochure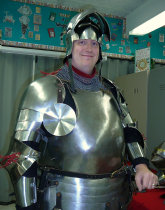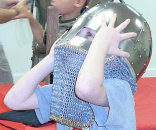 March 9, 2011: Homeschool Cooperative
~Benner Library, Olivet Nazarene University

February 11, 2011: Sycamore, IL
~Summer Reading Showcase