For several years Sir Randall served as the Roman Centurion during a church-sponsored event called the Bethlehem Walk. The living Nativity experience pictured is from December 2010: Click below to see pictures of the Roman camp, shopping in the marketplace, and the baby Jesus!
Bethlehem Walk

Home
Full Armour of God
Church groups, including Vacation Bible Schools, may choose to have Sir Randall present the Full Armour of God in medieval gear or while dressed as a Roman Centurion. He has built many pieces of his Roman soldier's uniform, from leather sandals to lorica segmentatas worn by men in his church's Bethlehem Walk.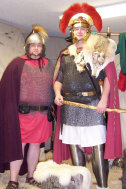 Roman
Enhance your church's program by hiring authentically-dressed extras: a Roman Centurion and one or more soldiers. Imagine how stunning it will be to have a 6' 5" commander, wearing his red horse-hair crest and armour in the background of your Nativity, Christmas or Passion program! Call for pricing and availability for your event.
Soldier for Hire